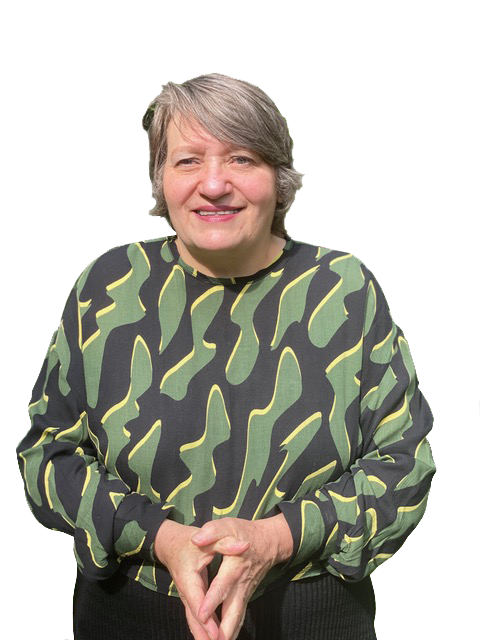 ​Marianne Hubert


Between the ages of three and eighteen, Marianne had seven near-death experiences that opened her to another reality, that of our life beyond the material. Inhabited by the desire to return to the state of existence of love, happiness and unlimited consciousness that she experienced on the other side of the veil, she embarked on a frantic search in spirituality and psychology. Frustrated at not finding the same state of bliss, she threw away her spiritual quest and settled for a merely material life. It was then, thanks to the concrete observation of her frustrations, confusions and other daily negative emotions that she made her subconscious conscious and progressively released her own divine source and that wonderful state of being that had always been there underneath. Since 2002, she has been guiding other seekers with love, humour and strength in the encounter with the Self.


​She channels a spiritual entity, the Guide. She is responsible for Pathwork in Belgium and author of several books: the oracle game "the divine in everyday life", "welcoming our imperfection" and several online trainings "healing the inner child", "our relationships as an opportunity for evolution", "the couple: meeting with the Self", "journey towards the divine Self", "return to the Self", "freeing one's path and offering it to the world", "money as spiritual energy", "opening up to the benevolent universe
International Pathwork® Conference

15-19 June online and face-to-face in Ottawa
The next Pathwork World Conference is coming soon! It's called "Reconciling Opposites" and will take place from June 15 to 19 in Ottawa, Canada! Marianne will be channeling the Guide and Jean-Michel Lambot will be presenting a conference on "How to better align ourselves with our positive intentionality".

It is possible to attend both in person and online! By registering, you will have access to a multitude of speakers from all over the world, all bringing their unique vision, love and gratitude for these precious teachings in lectures, workshops, meditations, etc. Most talks will be given in English with simultaneous translation into Spanish and Portuguese. In a few weeks, subtitled versions in several other languages will be available, including French.
This conference is a unique opportunity to break boundaries and meet other spiritual seekers from around the world and work together towards the upliftment of consciousness.

Chaneling (in French)

dimanche 9 juillet de 16h à 19h - en ligne et en présentiel
Since 2002, Marianne Hubert has been channeling a spiritual entity, the Guide. The "Troisième Pôle" method of self-work is inspired by his teaching, which encourages us to awaken to our fundamental nature. The powerful energies of love and healing present during the meditation to the sound of Emilien Sanou's balafon prepare the arrival of the Guide in the energetic body of each person. The Guide gives a general message and sometimes gives the opportunity to ask questions.

Transpersonal workshop
15 to 19 July 2023
​With holotropic breathing, immerse yourself in all the dimensions of who you are and make your subconscious aware. Over-oxygenation and the resulting altered state of consciousness bring you face to face with things you didn't know existed. These may be wounds to be healed, defences to be let go of, a state of connection with the greater whole or an encounter with a totem or spirit guide, past life experiences or other states of existence (mineral, animal, vegetable). You find a common thread that leads you to discover a much broader identity. This is a unique opportunity to work face-to-face with Marianne Hubert in a small group where the journey into your own depths brings you to another dimension of who you are.

​Meeting with free dolphins

Red Sea Cruise from 5 to 12 August 2023
Dolphins are permanently connected to the Divine Source, in a state of awakened consciousness of benevolence and selflessness, playfulness and innocence, pleasure in being alive, connected to their friends and family in joy and exuberance. They emanate healing and heart-opening waves that give rise to spontaneous awakenings, and a fuller state of being. They will be our teachers for this unparalleled iniIaI experience.
During this week in Egypt in close contact with these magnificent beings, we lay the foundation for living in alignment with our own divine source by consciously releasing our childhood defence mechanisms as protection against suffering. Releasing these mechanisms allows us to rediscover our true vulnerability and the authentic gratitude of being alive, each in exactly the right place to make our unique contribution to the earth.
​the young adult self-working groups (in French)
with Marianne Hubert
Every other Thursday from 7:30 to 10:30 pm

During these meetings, each person has the opportunity to express his or her vulnerability around the different emotional climates felt in order to discover the common thread contained in the life experience and the emotions it arouses. The group allows one to safely experience one's true expression, and the relaxation and love that comes from revealing oneself to another. The aim is to work on the different emotions that each person experiences in their daily lives, but also those that participants reveal to each other, and thus learn to embody a spiritual perspective in their material lives.

self-working groups (in French)
with helpers trained by Marianne
every other Thursday from 7.30pm to 10.30pm - Fabienne et Françoise
every other Thursday from 9:30 to 12:30 - Pascale and Dominique
every other Monday from 7.30pm to 10.30pm - Men's group with Jean-Michel Lambot
​Self-help groups offer you a platform for integrating a broader, divinely aligned life perspective into your relationship life! Each person expresses his or her own experiences. You learn to use the mirror of the other to get to know yourself better with honesty towards yourself and others and expression in your vulnerability. Participating in a group every other week allows you to keep an eye on the red thread for your personal evolution held in your emotions.